Accessing Minnesota Public Records differs from other states due to the Minnesota Government Data Practises Act, which controls how data is collected, created, stored, used, and released.1 The act was enacted to make as much data accessible to the public. With so much information available, it may be challenging sifting through it all so our site compiles this all in one location and for free, making the laborious task much easier.
Accessing Minnesota Public Record Databases
The  Freedom of Information Act (FOIA) makes it that every person has the right to request full or partial information from the Executive arm of the Federal government.2 Accessing Minnesota public records aligns with this, and due to the MGDPA, data is readily available to ensure informed citizens. MGDPA does not require citizenship to request public documents and can be requested anywhere.
Legislative records are exempt in the majority of the cases, as are judicial records but none in the executive branches. Judicial records such as domestic abuse cases, juvenile court records (minors' criminal records), and court records are exempt.
MGDPA guarantees anyone has the right to see and copy data classified as public – the only restriction being if there is a commercial use intended, there may be an additional fee charged. There is also no response time specified in Minnesota law. Therefore, in Minnesota, anyone can request Minnesota public records, and doesn't require a statement of purpose in regard to the request.
There are a number of sites that offer a search service, some free and others, a paid service. Whilst the free service makes it economically convenient, many times, these may not return accurate or up-to-date data as may be expected. Paid searches may be the better option for those seeking reliable, exhaustive, and accurate data.
Minnesota has data repositories for the different types of public records being sought – that is, whether they are criminal, vital, court, or Inmate records. It follows that someone looking for a piece of certain information must establish which government entity handles the type of information being retrieved and which jurisdiction it comes under.
Minnesota Criminal Records and History
Minnesota criminal records are also identified as rap sheets in the state. They provide data on the subject's past criminal record including offenses, dates of convictions, sentencings, etc. Access to criminal records in the state will aid potential employers, rental property owners, etc. make informed decisions about whom they hire or lease properties out to respectively.
Does the Public have access to Minnesota Criminal Records?
The MGDPA, in line with the FOIA, mandates that the public does have access to Minnesota criminal records. Thus, a criminal record history search must be in the public domain as authorized by Minnesota Statutes §13.87, Subd. 1(c).3
There are some exceptions to these which are deemed private.  These include:
Juvenile records that are sealed, to be discussed further in-depth below
Also, once a period of 15 years elapses after a conviction, the records cease to be public
The arrest history of an offender is also considered to be out of bounds to the public
How can I view Minnesota Criminal Records?
Minnesota criminal records are maintained by the Minnesota Bureau of Criminal Apprehension (BCA) and a search will be conducted through them.
Personal
A requester looking to obtain their own criminal records may do so by visiting the BCA office in St. Paul. Full names, DOB, and any aliases must be furnished with the request, and it should also be signed and notarized. The fee for this request is $8 via money order or personal check addressed to the BCA. Interested persons will be required to provide a valid ID. The lobby hours for the office in St.Paul are from 0815 to 1615 hours.  Mailing in the request will additionally need to include a self-addressed envelope and will be done at the same location:
MN Bureau Criminal of Apprehension
1430 Maryland Avenue E.
St. Paul, Minnesota 55106
The data will include both public and private data.
Non-Personal
Interested persons looking to look up someone's Minnesota public criminal record will also do it through the St. Paul office lobby which has public access terminals. They may also accomplish this online through the BCA search tool. This data will only be public data and not private data. The system captures the record-holder's full name and DOB. The record-holder is the subject of the record.
It should be noted this data will only include public data and this service is free to the public.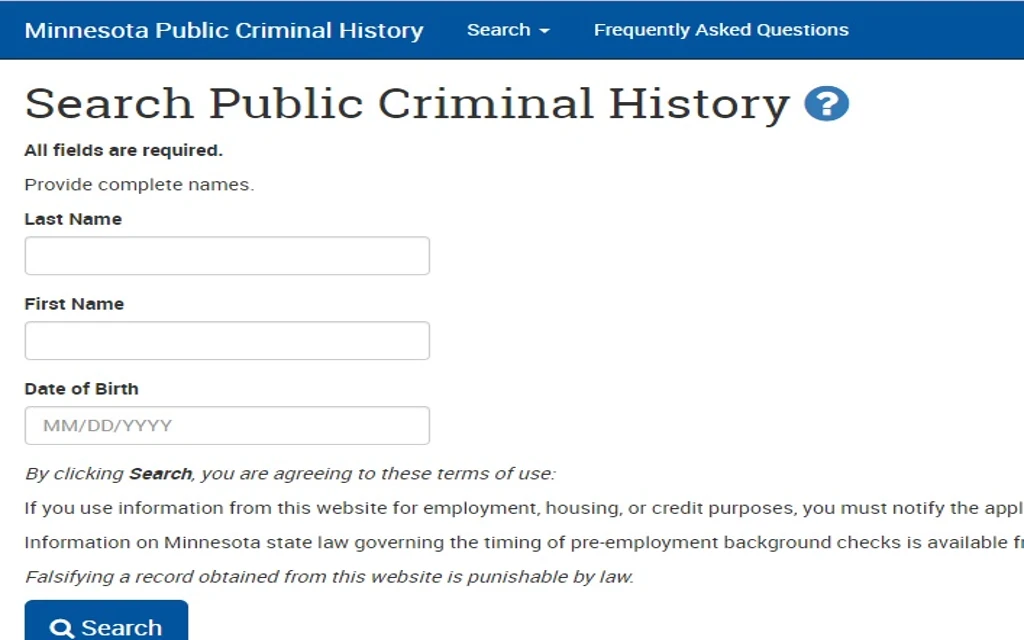 If a requester is looking to obtain both public and private data, then they will need to obtain consent from the subject of the record. Interested persons will thus need to provide an informed consent form with the request that will need to be signed and notarized by the record holder. The same procedure applies to the personal request but the fee is $15. Like the personal request, this can be done by both mailing in the request or by visiting the office in St. Paul.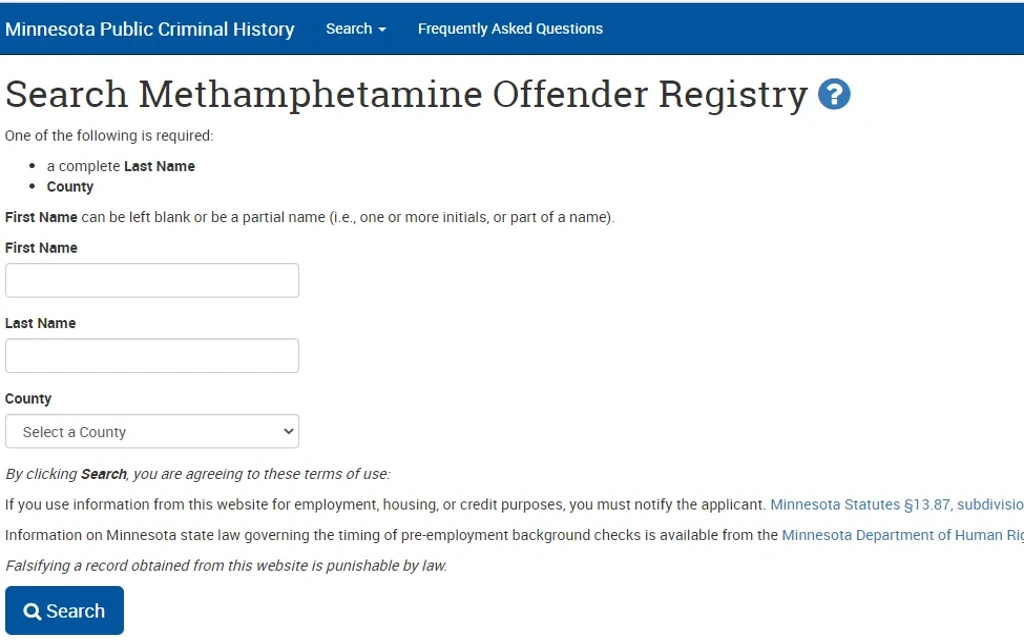 Fingerprints are not a requirement for completing a criminal history search in Minnesota. The process takes up to 3 business days to complete. Individuals may also obtain public records on a methamphetamine offender by accessing the registry. Minnesota maintains a Methamphetamine Offender Registry (MOR) as mandated by executive orders 06-09 and 11-08.4
The BCA provides an online search tool that captures both the full names and DOB of the offender.
How to Look Up Minnesota Mugshots (FREE)
When looking up someone's criminal record or an individual that has been charged with a crime in Minnesota, the data set of the criminal record will include the mug shots or photographs of the subject of the record. Simply proceed online to the  Minnesota Bureau of Criminal Apprehension and perform a Minnesota criminal record search.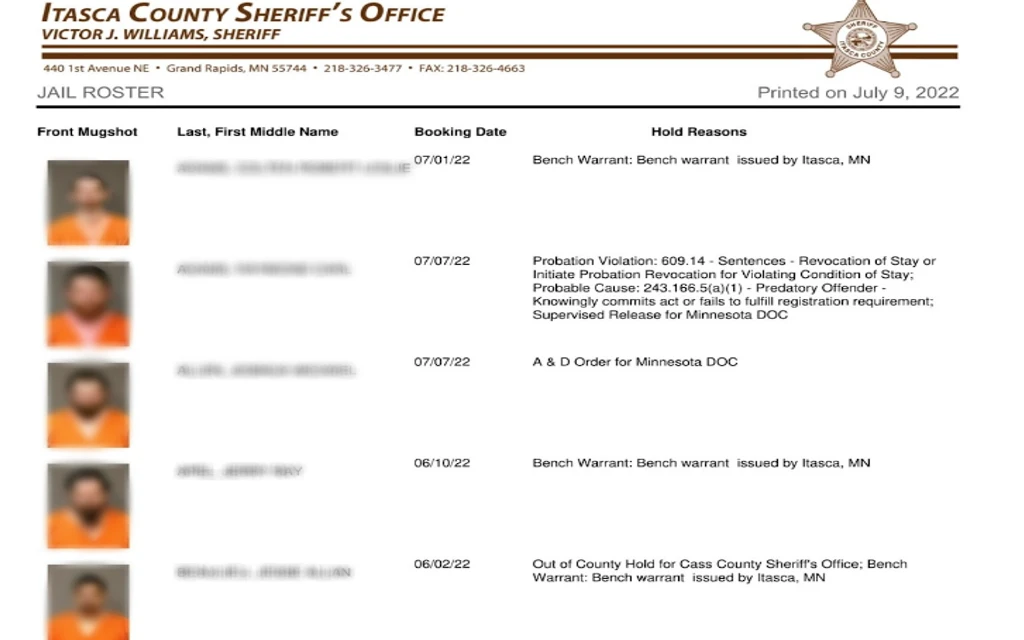 Alternatively, mugshots may also be obtained by contacting local law enforcement agencies and sheriff's departments to obtain records of inmates either in their inmate rosters or performing a warrant search. As an example, Itasca County Sheriff's department maintains a roster online with photographs of inmates.
 Are Juvenile Records Publicly Available in Minnesota?
In Minnesota, most juvenile cases are sealed records and are therefore not available to the public and are deemed to be private records; as authorized by Minnesota Statutes §260B.171.5
Juvenile records only become public if the minor has been charged with a felony. The minor may also be referred to an adult criminal court due to the severity of the crime, a classic example being murder. In cases like this, juvenile records cease to be private and become public records.
How to Run a Free Minnesota Warrant Search
There are several ways to establish if an individual has a warrant out for their arrest. These include:
Obtain warrant or recent arrest data  from the county sheriff's department or local police department
County courts with jurisdiction over the area over which a search is to be performed
Once a requester has determined what county the warrant may be in, the inquirer may contact the county sheriff's office or visit their website to check for warrant information. Many times, the sheriff's department may have a search tool to locate warrant data. As an example, Ramsey County provides a Warrant Search Tool. The department may also obtain warrant lists that an inquirer can sift through to check to see if there is a warrant out for their arrest; Mille Lacs County maintains a Warrant List on their website.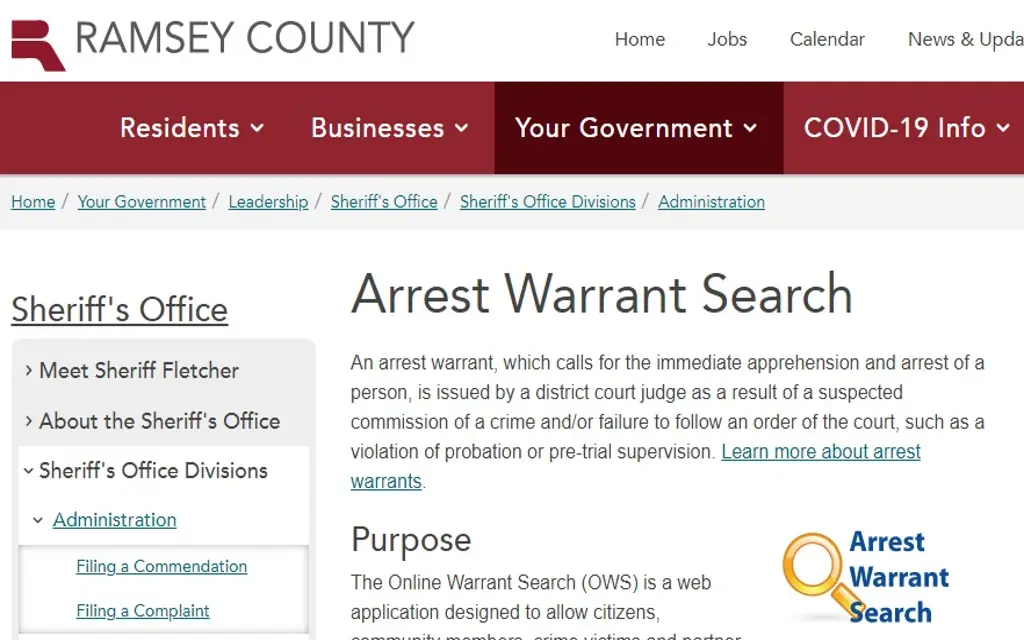 Warrant information may also be obtained from Minnesota courts. The Minnesota Judicial Branch does have a Find Your Court search tool that allows the requester to locate a court that has jurisdiction over where a warrant may have been issued. The requester simply needs to visit the court's clerk and provide either the full names of the record holder or the warrant number if known.
These two methods do not incur fees to the requester. Third-party websites often provide a search feature on their sites to allow individuals to carry out a warrant search. Some may be free, and others that do charge often may provide up-to-date data but typically will vary from official government channels.
 How to Search the MN Sex Offender Registry
In Minnesota, sex offenders are categorized as level one, two, and three when they complete their prison sentences. Level 3 is of the highest risk to the community, and typically notifications are sent out when an offender locates in a community. The sex offender registry is a public record. The Minnesota Department of Corrections (MNDOC) provides the public registrant search criteria where they can perform a search for offenders by city, county, state, and name of the offender.
Requesters may also employ the offender locator tool which captures the either name of the offender or their MNDOC number.
These tools are used to locate offenders that are non-compliant. However, there are some cases whereby a sex offender has registered and therefore has had their information availed to the public. These are known as compliant offenders, and their information may be deemed as private once they have filed the necessary petition requesting the same whilst still providing their address to law enforcement agencies – this is catered under Minn. Stat. § 243.166 (7a).6
Minnesota Criminal Background Checks
Public criminal records in Minnesota are stored in a central database under the scope of the Minnesota Department of Public Safety. Many times, background checks are completed by prospective employers to check if someone has a criminal record. A criminal background check is compulsory for all applicants for licensure – this includes applicants for initial licensure, licensure by endorsement, and those applying after a lapse in licensure. An example is a real estate license.
A Minnesota criminal background check requires that an application is made for a criminal history statement through mail or in-person to:
Minnesota Bureau Criminal of Apprehension,
CHA Unit,
1430 Maryland Avenue. E.,
St. Paul, MN 55106
This is done by submitting a notarized informed consent document with a fee of $15 payable to the BCA either through a personal check or money order. The Minnesota background check also requires applicants to submit fingerprints at the Minnesota BCA office in St. Paul. The fee is $10, payable in cash, personal check, or money order. These may also be captured at law enforcement agencies, i.e. sheriff's offices or at private vendors; in these cases, the fees vary.
The Minnesota prison background check reports criminal history that goes back 7 years from the date the request was submitted.
The state of Minnesota has a number of different types of background checks. As criminal history records checks are meant to be discrete due to statutes, state and federal statutes determine what kind of organizations and/or agencies can have the ability to conduct these background checks. Those statutorily required to carry out these checks include; organizations that work with children, the elderly, and the disabled.
Organizations and agencies that perform finger-based criminal history are mandated to follow certain FBI guidelines – they must provide the applicant with the Privacy Act statement, which must be acknowledged by the applicant. Applicants who are subject to these fingerprint-based criminal history checks haveprivacy rights eligible to them.
The following is a breakdown of the different kinds of background checks:
Rental Properties
Rental property owners in the state of Minnesota are required to carry out background checks on any employee who will have access to a tenant's home as part of their duties. This is as a result of the Karl Koskinen Manager Background Check Act.
School Authorities
Schools in the state are also mandated to carry out background checks on any employees who will have contact with children as part of their work.7 The schools will have employees fill out a School Hiring Authority Consent Form to obtain the relevant data.
Serve America Act
Organizations that receive grants and are funded by the Corporation for National and Community Service that have employees working with vulnerable members of society, i.e., the disabled, elderly, or children, will have to complete a background check.8
Firefighter Background Checks
Fire department employees are mandated to complete a background check.9 If they have not been a Minnesota resident for 5 years, then they must also complete a federal criminal history background check in addition to the state background check.
Security Officers
Companies that hire private security officers are mandated to conduct background checks on these employees.10
Child Protection Background Check Act
The Minnesota Child Protection Background Check Act gives authority to children's service providers to request background checks on employees who provide children's services as part of their job.11 These include education, training, recreation, or providing treatment.
Minnesota background checks return criminal history as well as a search on the predatory offender database. There are particular files that will possibly be inaccessible as they contain confidential or expunged information that requires special permissions to retrieve.
Reviewing How Minnesota Court Records Work
Minnesota Public Records in regards to information about court cases is public, with the exception of juvenile court records. 
Minnesota has 3 main court systems namely:
Supreme Court – decides and reviews both criminal and civil cases, regulates lower courts and attorneys, etc.
Court of Appeals – these review decisions made by the district courts, issue writs (orders issued to a lower court), contested cases,s, etc.
District Court – adjudicates civil and criminal cases (included in these are juvenile courts, family courts, and probate courts)
Court Records
Before a requester attempts to locate a record, it must be determined what court has jurisdiction over the record that needs to be located. Once this is done, then the inquirer would need to proceed to the relative court to obtain court records.
Supreme Court & Court of Appeals
Supreme court, as well as Court of Appeals records, can be accessed online through the Minnesota Appellate Case Management System (P-MACS). The system captures data such as case number, jurisdiction, case title, etc.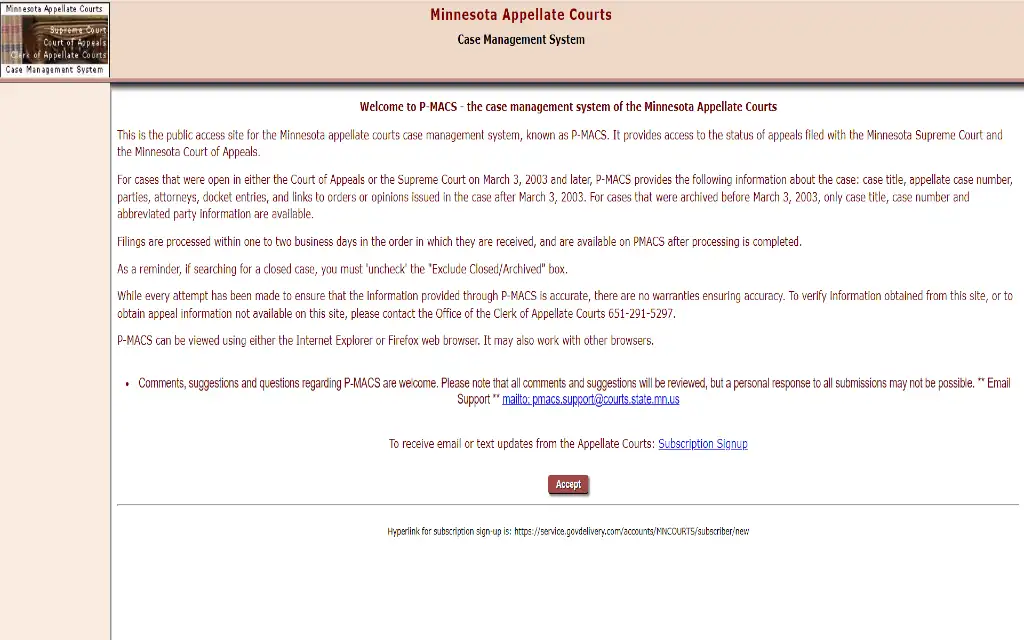 There may be some records that are not accessible via P-MACS; in this case, the requester may proceed to any public access computer terminal located either at a Minnesota District County Courthouse or the Minnesota State Law Library.
Minnesota District Courts
District court records can be accessed through the Minnesota Judicial Access Case Records page. This page offers the user two systems, that is: the Minnesota Public Access Remote MPA and the Minnesota Court Records Online (MCRO). When using MPA, requesters simply choose the location of the county they are looking to locate the record, and select the record to be searched.
Individuals may also access the public terminals in courts at no cost; an $8 fee is charged to print.
MCRO as seen above can either query records by a case search or a document search. As per the judicial site, MCRO will eventually replace MPA. It will be completed sometime in 2022 and charged for services.
How to Search Minnesota Court Records by Name
As seen earlier, court records can efficiently be located online or via public access terminal in the lobby of the court houses. MCRO can query case records by names including names of the parties to the case as well as attorneys. To access bankruptcy cases as well as federal cases, the Public Access to Court Electronic Records Portal (PACER) may be used. PACER requires the user to be registered with the system and charges $30 per name or record searched and $0.1 per page per document delivered electronically up to 5 documents.
Closed bankruptcy cases are retrieved through the  Archives Research Court Cases Portal.12 There is no fee charged to view the data; however, copies of the case files from the Archives may incur fees that are communicated to the requester.
Minnesota Inmate Records (Summarized)
Interested persons looking to locate inmate records may be doing so for various reasons, whether it be locating a family member, or friends, visiting an inmate, sending money to an inmate, or trying to ascertain the status of a missing person. Minnesota Inmate records are available to the public with certain exemptions where records may be sealed.
Inmate records will usually include:
Date and location of where the offender is incarcerated
Inmate release date
Parole information
Details of conviction
Mugshot etc.
Minnesota Inmate Search of County Jails and City Jails
Jails are facilities where inmates are held for short periods of time, either serving time for misdemeanors or awaiting trial. As a general rule, police departments operate city jails while the sheriff's office runs county jails. Therefore to initiate a search for a person in a city or county jail, it is critical to know where the inmate is located i.e. county.
The majority of county jails have an online inmate lookup search feature that allows a query to search a record or obtain jail paperwork. As an example, Sherburne County has an Inmate Locator. Other counties maintain an inmate roster where the search can be manually completed to match the names of the inmate being retrieved; a classic example is Scott County Jail Roster.
If the search does not yield any results, then this likely means that the inmate is in state or federal prison rather than jail. Therefore, the next course of action would be to perform an inmate search for state or federal prisons, addressed below.
How to use Minnesota (MN) Federal Prison Inmate Locator
The Bureau of Prisons (BOP) maintains a database of inmates that have been incarcerated or released after 1982. The BOP has an MN Federal Prison Inmate Locator. The service is free to use, and the requester typically needs to have some information beforehand to complete the search.
Inmates can be found in two ways using the BOP site, that is, by name or inmate number.
Once an inmate has been successfully located, the next step would then be to use the Federal Prison facility locator and establish the location of where the inmate is being housed.
How to Find Inmates in State Prison (Dept. of Corrections Look Up)
The Minnesota Department of Corrections (MNDOC) oversees the state's prisons. Individuals can quickly locate offenders within the state's prison systems by employing the MNDOC Offender Locator tool that facilitates a free search by using either the full name or MNDOC number of the inmate.
Minnesota Certificates & Vital Records
Vital Records are records of life events of persons maintained by government authorities – In the state of Minnesota, they include:
Birth Records
Death Records
Marriage Records
Divorce Records
Adoption Records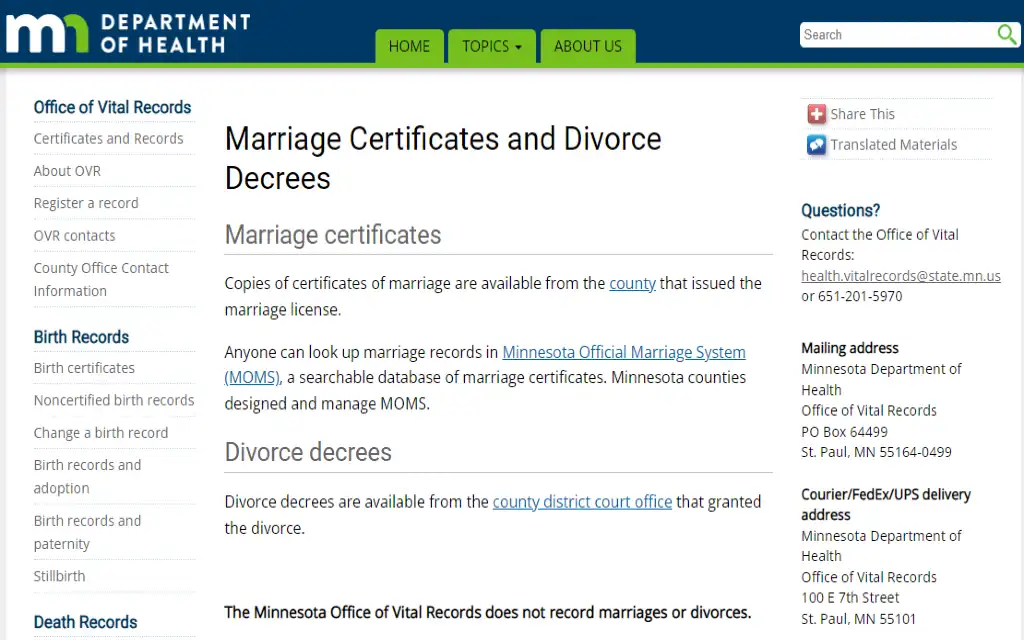 There are two types of copies of vital records; certified and uncertified. Certified copies are official and usually bear a government seal and may be used as identification. Uncertified copies cannot be used as identification and often do not have a government seal.
Minnesota vital records are generally open to the public – Minnesota is an open records state as per the Minnesota Data Practices Act.
Type of Certificate
Address to Request
Contact information
Fees
Processing Time
Birth
Minnesota Department of Health
Central Cashiering – Vital Records
PO Box 64499
St. Paul, MN 55164
Fax number : (651) 201-5740
Telephone number: (651) 201-5970
Certified copies: $26
Non-certified copies: $13
Additional $6 for extra copies
Two weeks; if requested at the County Vital Records Office, may be printed while the requester waits.
Death
Minnesota Department of Health
Central Cashiering – Vital Records
PO Box 64499
St. Paul, MN 55164
Fax number : (651) 201-5740
Telephone number: (651) 201-5970
Certified copies: $13
Non-certified copies: $13
Additional $6 for extra copies
Two weeks; if requested at the County Vital Records Office, may be printed while the requester waits.
Marriage
County where the marriage occurred; address can be obtained by visiting  County Vital Record Office Contacts and selecting the county ;
Visit  Minnesota Official Marriage System (MOMS) to obtain records from participating counties.
County where the marriage occurred; address can be obtained by visiting  County Vital Record Office Contacts and selecting the county ;
Visit  Minnesota Official Marriage System (MOMS) to obtain records from participating counties.
Cost of copy: $9
Two weeks
Divorce
County where the death occurred; address can be obtained by visiting  County Vital Record Office Contacts and selecting the county.
County where the death occurred; address can be obtained by visiting  County Vital Record Office Contacts and selecting the county.
Cost of copy: $9
Two weeks
Can anyone Request for Copies of Vital Records in Minnesota?
Minnesota vital records are typically open to the public due to the Minnesota Data Practices Act, which makes the state open records state. There are exemptions to certain vital records where these are deemed as private and/or confidential – unauthorized access, in this case, is restricted.
There may be some cases where some vital records are not available to the public such as some divorce cases being sealed, and birth certificates belonging to children born to unwed mothers.
How to Get a Copy or Replacement Vital Record Certificate in Minnesota
Vital records are easily replaceable in the state of Minnesota. As explained above and from the table, a request is made to the Vital Records Office with the required documents and fees paid to obtain a replacement of the vital record.
Birth Certificate
Birth certificates can be purchased from any  County Vital Record Office. County offices may also print a birth certificate while the requester waits for it. The Office of Vital Records at the Minnesota Department of Health does not accept walk-in applications. These must be requested by mail or fax. The applications must be signed and dated by a notary public. Certified copies cost $26.
Death Certificates
There are two ways of purchasing a death certificate in the state of Minnesota:
The Minnesota Office of Vital Records maintains death records on file from January 1908 to current. Copies of death records can be obtained from the state or any local Registrar at a cost of $13; additional copies cost $6 when ordered concurrently. The Office of Vital Records does not have a walk-in service and only accepts mail or fax.
From any Minnesota County Vital Records Office. Some county offices may print the death certificate while the requester waits.
To perform an online record search, the Minnesota Department of Health has a  Death Search Tool. It should be noted that this search covers only deaths that occurred after 1997. The search tool captures:
      The deceased's first name, last name, and DOB or
      The deceased's first name, last name, and Social Security Number (SSN) without hyphens
Free Copies of Marriage Certificates
As stated in the previous section, marriage records are not recorded at the state level. To obtain copies of marriage certificates, the requester should proceed to the county that issued the marriage license. Find the County through the  County Vital Record Office. The table above gives a summary on directions as well as costs for the same.
Divorce Certificate
Divorce certificates (decrees) are available from the  county district court office that granted the divorce. As a reiteration, The Minnesota Office of Vital Records does not record divorces or marriages.
Combing through Minnesota public records may prove to be too much of a daunting task. These concerns should be kept at bay, as our search tools provide an excellent way to perform records search in the state of Minnesota, all from one source!
1(n.d.). FOIA.gov – Freedom of Information Act. Retrieved June 11, 2022, from <https://www.foia.gov/>
2//. (n.d.). // – Wikipedia. Retrieved June 11, 2022, from <https://www.revisor.mn.gov/statutes/cite/13.>
3SERVE AMERICA ACT. (2009, April 21). Congress.gov. Retrieved June 11, 2022, from <https://www.govinfo.gov/content/pkg/PLAW-111publ13/pdf/PLAW-111publ13.pdf>
4Sec. 243.166 MN Statutes. (n.d.). MN Revisor's Office. Retrieved June 11, 2022, from <https://www.revisor.mn.gov/statutes/2020/cite/243.166#stat.243.166.7a>
5Sec. 299F.035 MN Statutes. (n.d.). MN Revisor's Office. Retrieved June 11, 2022, from <https://www.revisor.mn.gov/statutes/?id=299F.035>
6Sec. 123B.03 MN Statutes. (n.d.). MN Revisor's Office. Retrieved June 11, 2022, from <https://www.revisor.mn.gov/statutes/cite/123B.03>
7Sec. 13.87 MN Statutes. (n.d.). MN Revisor's Office. Retrieved June 11, 2022, from <https://www.revisor.mn.gov/statutes/cite/13.87>
8Sec. 152.137 MN Statutes. (n.d.). MN Revisor's Office. Retrieved June 11, 2022, from <https://www.revisor.mn.gov/statutes/cite/152.137>
9Sec. 260B.171 MN Statutes. (n.d.). MN Revisor's Office. Retrieved June 11, 2022, from <https://www.revisor.mn.gov/statutes/cite/260B.171>
10Sec. 299C.61 MN Statutes. (n.d.). MN Revisor's Office. Retrieved June 11, 2022, from <https://www.revisor.mn.gov/statutes/cite/299C.61>
11Sec. 326.336 MN Statutes. (n.d.). MN Revisor's Office. Retrieved June 11, 2022, from <https://www.revisor.mn.gov/statutes/cite/326.336>
12[12] Records, P.A (n.d) | PACER|. Retrieved 2022, from <https://www.pacer.uscourts.gov>